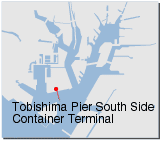 Tobishima Pier South Side Container Terminal is a high-standard container terminal with 16 m, earthquake-resistant quays. The terminal is equipped with gantry cranes that can handle 22 rows. Tobishima Container Berth Co.,LTD. which consists of shipping, harbor transportation, and logistics companies, manages and operates the terminal and develops some of the building facilities.
The first berth (TS2) has been in service since December 2005. It now operates together with a second berth (TS1) that has been in service since December 2008. The terminal handles cargo mainly on North American and European trunk routes.
Work within the terminal is done with Japan's first automated guided vehicles (AGV) and the world's first remotely operated rubber-tired gantry (RTG) cranes. As Japan's first automated terminal, efforts are ongoing to raise cargo handling efficiency with the aims of high-level services and low cost.

TS1
TS2
350m+(adjacent part 50m)
400m
16m
127,570m2
233,979m2
7,920 TEU(4-high stack)
9,768 TEU(4-high stack)
Customs・Plant Quarantine,Dangerous Cargo,Reefer Container
240
6 Lanes Inward, 6 Lanes Outward
3(quake-absorbing)
3(quake-absorbing)
45.0 t
45.0 t
59.0m(6 tires in 22 rows)
59.0m(6 tires in 22 rows)
30.5 m
24
33
Tobishima Container Barth Co., Ltd.(TCB)
(Investing Companies) Kwasaki Kisen Kaisha, Ltd. / Mitsui O.S.K. Lines, Ltd. / Nippon Yusen Kaisha /
Asahi Unyu Kaisha, Ltd. / Isewan Terminal Service Co., Ltd. / Kamigumi Co., Ltd. / Tokai Kyowa Co., Ltd. /
Fujitrans Corporation / Meiko Trans Co., Ltd. / Tobishima Logistics Service, Inc.
Service Routes