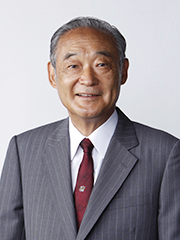 The Port of Nagoya has grown remarkably as one of Japan's major international trade ports together with the industrial and economic development of the Chubu Region.
Our predecessor, the former Nagoya Port Terminal Public Corporation, played a significant role in regional economic development through the development, management and operation of container and ferry terminals at the Port of Nagoya for more than 40 years. In response to institutional reforms and changes in port policy, the corporation was privatized in 2012, taking its present form as the Nagoya Port Terminal Corporation.
In November 2014, we were designated a Special Port Operating Company based on the "Strategic International Container Port" program, a new national port policy. We continue working to improve services and reduce costs through efficient and integrated port operation from a private perspective.
NPTC is involved in the management and operation of container terminals at Nabeta Pier and Tobishima South Side, as well as public container terminals at Tobishima Pier North and South. In April 2016 we merged with Nagoya Container Berth Co., Ltd., adding the NCB container terminal to our operations.
As we move forward with integrated management and operations of container terminals at the Port of Nagoya, we are also aiming to transition to a port operator for Ise Bay, working to coordinate with relevant parties.
At the same time, we must deal with external changes such as the rapidly increasing size of container ships and the age of the Trans-Pacific Partnership (TPP) and other mega-free trade agreements to expand trade based on evolving trade policy negotiations.
While dealing with this changing environment in partnership and cooperation with port administrators, port businesses, and the local business community, we are committed to increasing the ease of use for our customers and actively contributing to the expansion of the Port of Nagoya topography and the development of the regional economy.
We ask for your ongoing support and cooperation.