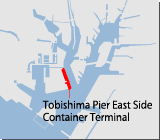 On the east side of Tobishima Pier, three container terminals (Tobishima Pier North, NCB, Tobishima Pier South) are aligned, forming a total of 8 berths with a total quay length of 2,220 m.
Cargo on North American and Southeast Asian routes is handled here. Quays with water depth of 10 m to 15 m are used efficiently depending on the type of ship.
To deal with increasingly large container ships, NCB Container Terminal Berths R1 and R2 will be improved as quake-resistant quays with depth increased from 12 m to 15 m. The work is slated for completion in FY2023*. There is a plan to increase size of the gantry cranes at the Tobishima Pier South Container Terminal (to 20 rows) one by one.
*Part scheduled to be in service in 2021.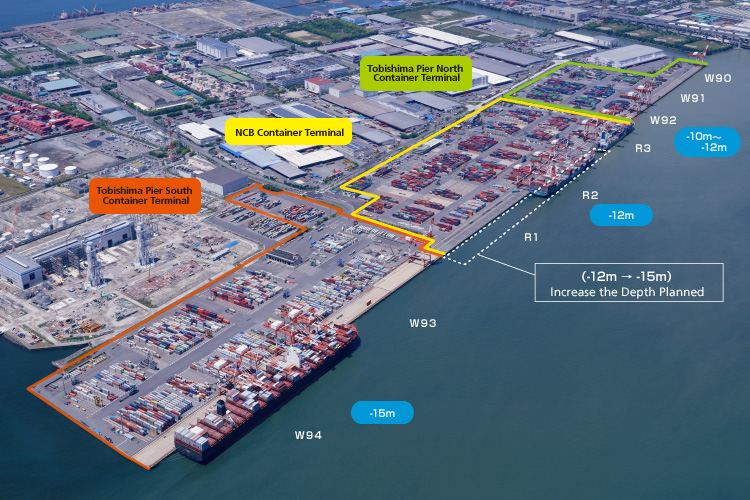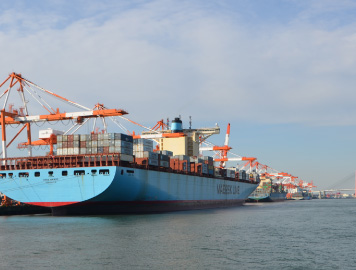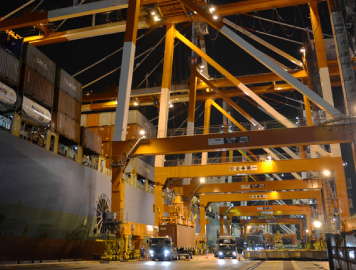 Tobishima Pier North
(W90/W91/W92)
NCB
(R1/R2/R3)
Tobishima Pier South
(W93/W94)
620m
900m
700m
10 ~ 12m
12m
15m
171,105m2
288,379m2
227,772m2
2,862TEU
5,125TEU
4,376TEU
Customs, Plant Quarantine, Dangerous Cargo, Reffer Container
110
189
140
2 Lanes Inward
4 Lanes Outward
9 Lanes Inward
4 Lanes Outward
4 Lanes Inward
6 Lanes Outward
3
6
5
30.5t x3
40.6t x4, 30.5t x2
40.6t x4, 40.6t(30.5t)* x1
36m (3 tiers 13 rows)
37m x2 (5 tiers 13 rows)
48m x4 (5 tiers 17 rows)
44m x2 (4 tiers 16 rows)
44.5m x2 (5 tiers 16 rows)
47.7m x1 (5 tiers 17 rows)
48.5m x2 (6 tiers 17 rows)
17m x3
17m x2, 28.3m x3
30.5m x2
---
R1, R2: Kawasaki Kisen Kaisha, Ltd. / Mitsui O.S.K. Lines, Ltd. / Nippon Yusen Kaisha
R3: Nagoya United Container Terminal Co.,Ltd. (NUCT)
---
North America, Indonesia, Singapore
North America, Indonesia, Indochina, Bangkok, Singapore, Philippines, Nahodka
North America, Indonesia, Singapore, Bangkok, Korea
* () for at 17 rows