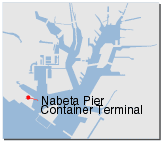 The Nabeta Pier Container Terminal handles mainly container cargo from China, South Korea, and Southeast Asia.
Nagoya United Container Terminal Co.,LTD., a terminal operator based on joint investment by harbor transportation companies, conducts integrated management and operation of three berths. It boasts one of the highest utilization rates in Japan, handling approximately forty percent of the container cargo at the Port of Nagoya.
It began operating its first berth (T1) in April 1997, its second berth (T2) in April 2001, and its third berth (T3) in April 2012. Active measures are being taken to reduce environmental impacts, including electric rubber-tired gantry (RTG) cranes and LEDs for yard lighting.
Berths T2 and T3 have seismically reinforced quays and gantry cranes (Berth T3 is seismically isolated), while anti-liquefaction measures have been adopted for the container yard. Additionally, the first twin spreader at the Port of Nagoya is used on the gantry cranes at Berth T3.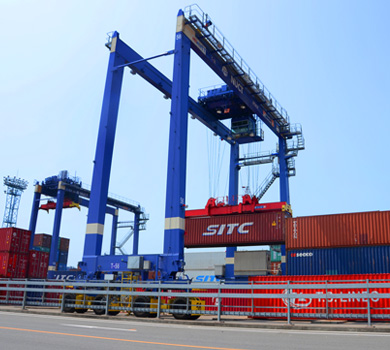 Nabeta Pier Container Terminal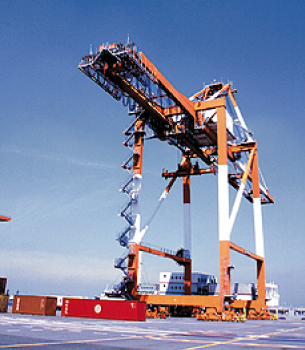 Nabeta Pier Container Terminal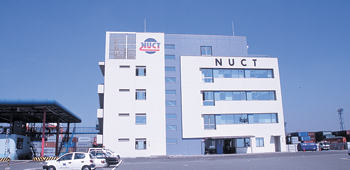 Control Office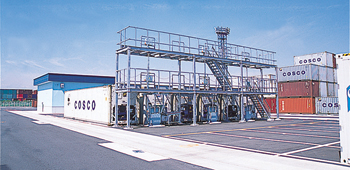 Reefer Plugs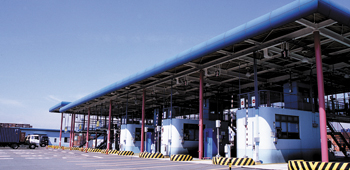 Gate House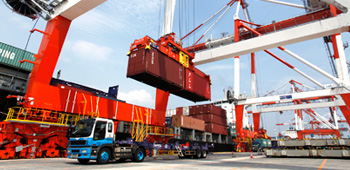 Transfer Cranes

※〔T2,T3:quake-resistant〕
Extended Area
T1
T2
T3
-
350m
350m
285m
-
14m
57,186m2
175,000m2
175,000m2
125,000m2
436TEU
1,986TEU
2,340TEU
2,006TEU
Plant Quarantine、Dangerous Cargo、Reffer Container
-
144
144
-
24 Lanes lnward, 12 Lanes Outward
-
3
3(quake-resistant)

2(quake-resistant)

-
40.6t
40.6t
(single)40.6t、(twin)50.0t

-
48.5m
(6 tiers in 17 rows)
50.0m
(6 tiers in 18 rows)
48.5m
(6 tiers in 17 rows)
-
30.5m
-
38
-
8 Lanes,168 Units(20ft trailer)
Isewan Terminal Service Co., Ltd. / Kamigumi Co., Ltd. / Tokai Kyowa Co., Ltd. / Nippon Express Co., Ltd.
/ Fujitrans Corporation / Mitsui-Soko Co., Ltd. / Mitsubishi Logistics Corporation / Meiko Trans Co., Ltd.
Nagoya United Container Terminal Co.,Ltd.(NUCT)
China, Korea, Taiwan